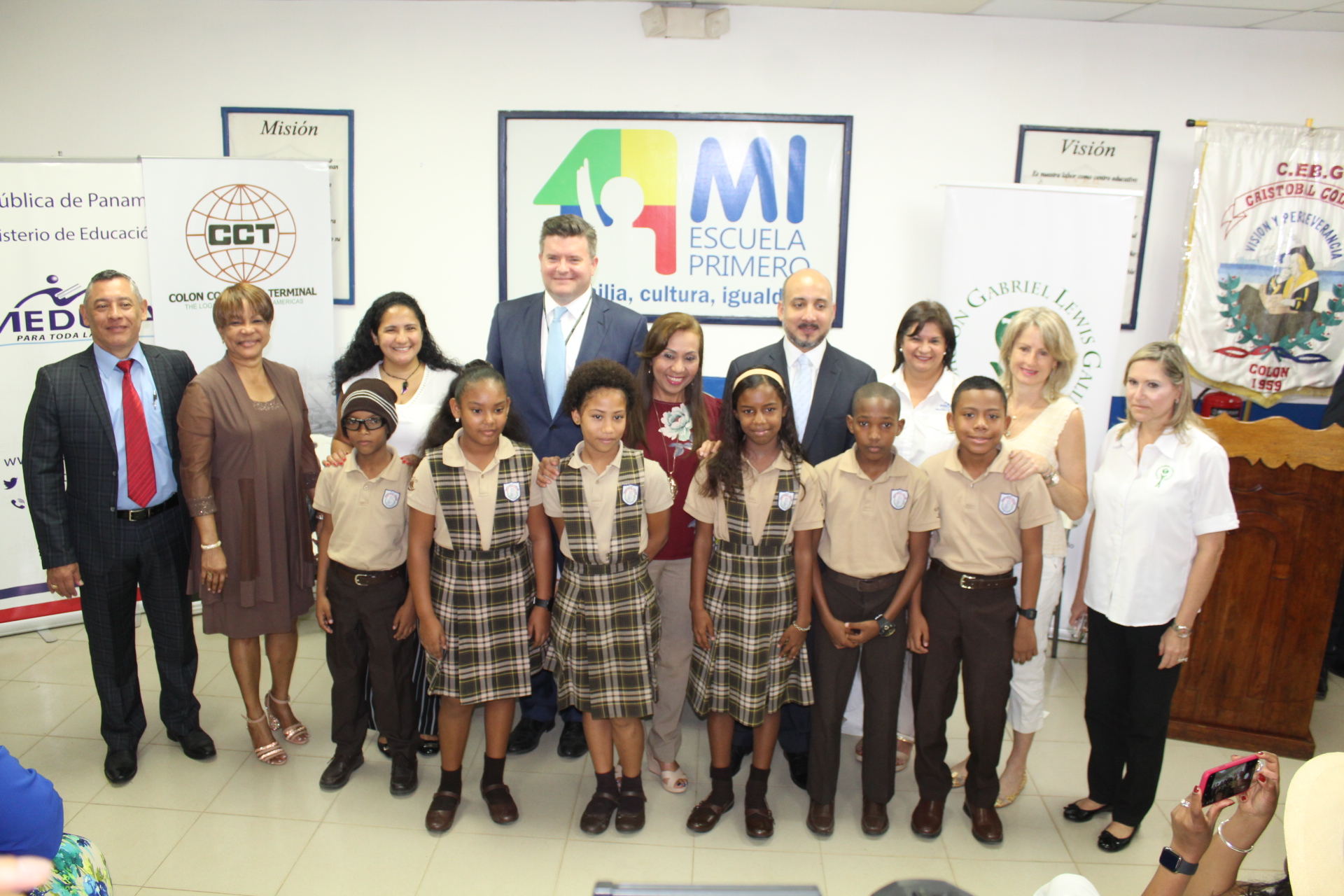 On April 4 and 17, 2019, Colon Container Terminal, S A., inaugurated the re-infrastructure and rehabilitation works of three schools in the Province of Colon: Marco Ramon Vasquez Bilingual Elementary School, Cristobal Colon Bilingual Middle School, and Gatuncillo Bilingual High School.
TThese works were financially supported by Colon Container Terminal, S. A., under the coordination of Gabriel Lewis Galindo Foundation, and MEDUCA (Mi Escuela Primero).
During the ceremony, the President of CCT, Stephen Shaffer, expressed his satisfaction of being part of this project. After 21 years of operations of this company, this is a way to return back to the Province of Colon, a small part of what this province has given to CCT. He stressed the importance of supporting initiatives that benefits social progress, such as education, and also called on students to preserve these works so they can impact future generations.
ACTO PROTOCOLAR DE LA FORMAL ENTREGA DE TRABAJOS DE REINFRASTUCTURA Y REHABILITACIÓN DE ESCUELAS PATROCINADAS POR CCT.
Abril 4 y 17 de 2019, Colon Container Terminal, S A., inauguró las obras de acondicionamiento de tres planteles de la Provincia de Colón: Escuela Bilingüe Marco Ramón Vásquez, Centro Escolar Básico General Bilingüe Cristóbal Colón, y Colegio Secundario Bilingüe de Gatuncillo.
Estas obras fueron respaldadas económicamente por parte de la empresa Colon Container Terminal, S. A., bajo la coordinación de la Fundación Gabriel Lewis Galindo, y del programa del Ministerio de Educación "Mi Escuela Primero".
Por su parte, el Presidente de CCT, Stephen Shaffer, mostró su satisfacción de ser parte de este proyecto; y por medio del mismo, devolverle a Colón, tras 21 años de operaciones de esta empresa en la provincia, una pequeña parte de lo que esta le ha brindado a CCT. Destacó la importancia de respaldar iniciativas que beneficien la base del progreso social, como lo es la educación e igualmente hizo un llamado a los alumnos a preservar estas obras para que puedan beneficiar a las futuras generaciones.